Hello Friends of North Runnymede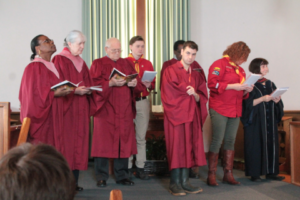 Welcome and thank you for visiting this website.
In this time of church building closures, it is good to stay connected in other ways, like on this virtual site.  We hold everyone in thought and prayer at this time. If you would like a phone call please leave a message on the church line 416 762-3960 and we will get back to you.  Even though we are not in church services, it is still the season of Lent leading to Holy Week and Easter.
A Scripture passage that speaks of this time is found in Mark. 10: 32-52.
These events take place just before Palm Sunday which is next week.
A good Psalm that speaks of God's Care is Psalm 121.
For the Youth and Children reading this message, here is a fun challenge:
See if you can draw a picture or write a poem or story or prayer about helping others right now, when it is hard to be together.
How do you help your family?  Your friends?  What do you do during this time spent at home?
After this Virus is all over we can share all the creations.
Over the next while we are planning more online events. Stay tuned. GOD BLESS YOU.
Till next time,
Kathryn
---
Moderator's Online Worship for March 29
United Church of Canada Moderator Richard Bott is sharing online worship during the COVID-19 pandemic, at least through Holy Week.  The Moderator's online worship service for Sunday, March 29 is now available. He shares prayers and a reflection on John 11:1-45, the raising of Lazarus. Bruce Harding and Amarjeet Singh offer music.
---
Please don't forget to sign up to receive the North Runnymede United Church Weekly Bulletins by email, to stay current and connected!